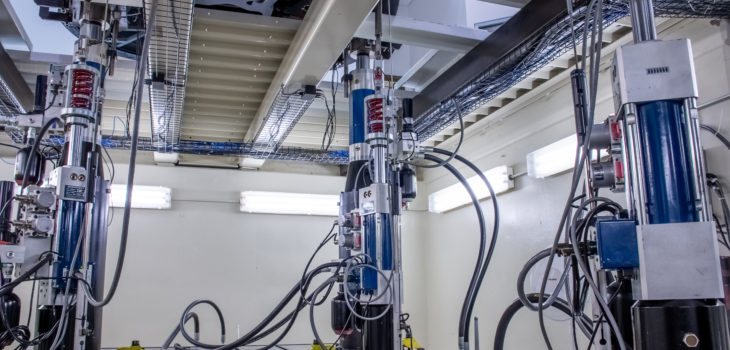 Imagine being able to run more laps in a day, record more accurate data and control the effects of variables such as tire wear, temperature, and weather — all without using any tires, no engine mileage and no track rental fees! 4/7-Post Shaker Rig testing can be a powerful tool to help achieve more with your time and testing budget.
Zeta Performance utilizes its ServoTest 4/7-Post Shaker Rig to test, analyze, and improve aerodynamic and tire grip in many levels of Motorsports.  4-Post testing is a great step in analyzing chassis springs, damper curves and their effects on body and tire response given certain frequency inputs.  Zeta uses proprietary analysis software and procedures to help customers hone in on set-ups that provide crisp chassis response coupled with maximum tire grip.  These tests are easy to set-up for, cost-effective and can often be done within a day.
For vehicles with high aerodynamic forces (i.e. IndyCar and Nascar) or extremely non-linear suspension spring setups (i.e. late models), 3 additional actuators are attached to the chassis to provide simulated aerodynamic or vertical loads the car would see on the race track at speed.  Testing procedures vary from basic frequency sweeps, as typically done on the 4-Post, all the way to full lap replays using data recorded on-track and iteratively recreated on the 7-post via proprietary track profile generator software.  Advanced analysis software handles the additional information and displays results for the teams to view on our custom monitor system between runs, along with raw data export options for teams.
Zeta Performance also features a synchronous multi-camera system to accompany the rig data collected during each run.   These videos and pictures will help teams detect things the naked eye might miss during each run and allows for visual review alongside the data.
Zeta can provide engineering support at any level required — from assisting an organization testing for the first time through the entire planning and testing process to supporting experienced engineers in interpretation of test results and handling rig-specific minutiae.
In addition to performance-oriented efforts, Zeta is experienced in rig testing for ride quality, NVH, and durability development. 4-Post testing can significantly decrease proving grounds testing time and definitively quantify ride quality characteristics.
We are fortunate to have worked with many teams, organizations and manufacturers including Mazda, Shelby American, and numerous others to develop upcoming vehicles both for the street and the track!
Contact us today for more information including rates and availability.